For this concert, what is getting the most attention is the possibility of BIGBANG's comeback. BIGBANG is currently working on their new album and it was announced before that their comeback is scheduled during the later part of the year. Anticipation from fans that the "YG Family Concert" will possibly be BIGBANG's comeback stage is pouring in.
Quick translation by SiYeon for bigbangupdates
EDIT: Rumor of BIGBANG coming back in 3 weeks
This has been circulating around Korean fansites (VIPZ, Bestiz, Daum, etc.) and making a lot of fans excited. The info came from Im Ha Young's (soccer player) minihompy who was present at Enjoy Today's recording. She said on October 16 on her minihompy that Seungri mentioned during the filming that BIGBANG's comeback is after 3 weeks, "3주뒺쯤에 comeback할꺼래요ㅋ" (Source)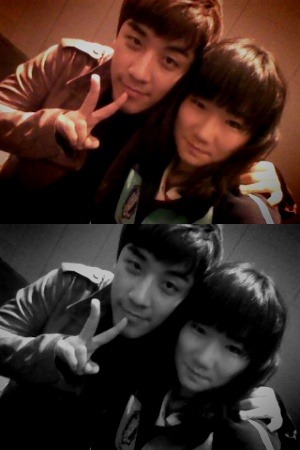 Im Ha Young with Seungri @ ET Recording
Comment by Flibbertigibbet (A Korean YG fan) @ 6theory forums:
"Big Bang's coming back in 3 weeks according to Seungri during an Enjoy Today recording… Fans are speculating the date will be November 4th on TOP's birthday. Seems like a bad time to be honest because all the music shows will be cancelled due to the Asian Games." (Source)
NOTE: This is just a rumor.